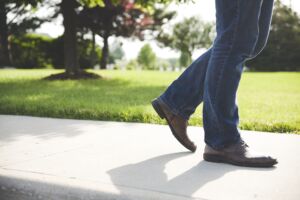 Homeowners should be aware that the Hamlet will be performing necessary sidewalk repair and replacement this summer/fall. It is vital that you look at the locations below for anticipated work as new sidewalks near your home may cause an alignment issue with your private walkway.  Any homeowner who needs concrete repair/replacement can contact Dominion (see below) to request a quote. You may save money on concrete work if you have the contractor replace your walkway / steps the same time as the Hamlet's common ground work.
Please see the list of approximate locations below. It is possible the list will change slightly before work is scheduled and we will announce any changes. If you are not sure if your walkway needs to be replaced contact Dominion Paving for assistance.
Important Notes
The Hamlet can not legally replace the walkway on your property. This is the portion between the Hamlet sidewalk and your home.
Sidewalks must be maintained and while we appreciate the cost and inconvenience you may incur due to Hamlet sidewalk work, we can not alter replacement schedules or standards.
Homeowners are not required to replace their section of walkway even if it no longer aligns with the sidewalk. However, Reston Association standards require your walkway to be in good condition at all times (i.e. structurally sound and not an eyesore).
Contact Dominion Paving if you want a quote to have sidewalk or steps replaced on your property. Do not contact the Hamlet!  If you want a quote, please send your name, property address and mention you are part of the Hamlet to:
Brian Stewart
brians@dompave.com
Location of Replacement Sidewalk
Still Brook
None
Briary Branch
11711 (right)
11709 (left)
11700 (right)
Dry River
11719 (left)
11714 (right)
11720 (right)
11724 (left)
11746 to 11756 (all the way to Middle Creek)
Mossy Creek
11718 (right)
11708 (left)
11704 (left)
Middle Creek
2325 (left)
2323 (right)
2301 (right)
2310 (right)